---

Photo credit: Mark Walz

To Our Clients and Friends,
Spring is here! The trees are budding and the weather is warming up. Please stay up to date with us and check our website and Facebook page for new articles and developments.

All the best,
The ESC Team
 
Peter deFur, President
Laura Williams, Environmental Scientist
Ashley Sykes, Shana Moore, Office Manager
Leslie Shafer, Research Assistant
Jeffrey Anderson, Community Outreach Intern
 
---
TEAM NEWS
---
Our long-time office manager Ashley Sykes is leaving us for Boston this month. It has been a pleasure having her. She has been a wonderful asset to the ESC team and we hope her experience here will lead to a wonderful new job in Boston.

Taking her place is Shana Moore. With her experience in customer service, finance, and her continuing education in Environmental Studies at VCU, we are very pleased to have her here.


---
CLIENT UPDATES
---

Duwanish River
Seattle, WA

The EPA released the Proposed Plan today along with the Environmental Justice Analysis and Source Control Strategy. To read these documents click here. The commenting period for these documents ends on June 13. To submit your comments click here.
---

Badger Prairie Area
Merrimac, WI

The Wisconsin Department of Natural Resources is accepting public comments on the military's proposed cleanup remedy at the Settling Pond, Final Creek, and Spoils Disposal Area.  The preferred cleanup method is detailed in the Alternative Feasibility Study available here. Comments can be sent to: Will Myers, Wisconsin Department of Natural Resources, 3911 Fish Hatchery Road, Fitchburg, WI 53711, (608) 273-5613, will.myers@wisconsin.gov

ESC commented that the Alternative Feasibility Study may not be protective of human and ecological health and would leave some contaminants above their allowable level. If approved, the land use for the area would have to be restricted from such activities as camping, prairie restoration and other conservation activities. The community is not satisfied with this cleanup plan and is rallying to have it revised.

Citizens for Safe Water around Badger held a public information open house on February 20th to inform the community about the Army's remediation plan.
 
---
---

Portland Harbor Superfund Site
Portland, OR

EPA has taken responsibility for producing the Feasibility Study for Portland Harbor, an uncommon procedure for a site of this size and complexity.  The public can anticipate a Proposed Plan will be released at the end of this year, or early 2014.

Don't miss Portland Harbor 101 on March 11th from 6:30 to 8pm at City of Portland's Water Pollution Control Testing Lab, 6543 N. Burlington Ave, Portland, OR.

On March 13th, there is a general CAG meeting from 6 to 8pm at the same location.
---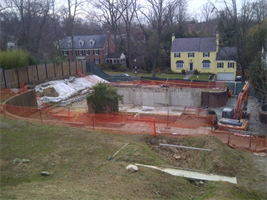 Spring Valley Cleanup Site
Spring Valley, Washington, DC

At 4825 Glenbrook Road, initial low probability excavation in the front yard has been completed. Completion on the rest of the test pits is expected in two weeks.  Next, crews will begin utility relocation and setting up the engineering control structure for high probability excavation work, which is anticipated to begin in late April.  Stay up to date here.
 
---
Terry Creek DredgeSpoil Area
Brunswick, GA

The Glynn Environmental Coalition first Friday lunch will be held March 1, 2013 at 5031 new Jesup Hwy in Brunswick, GA.  Guest speakers will discuss Jekyll Island preservation. 

GEC has distributed a newsletter offering more information about the Human and Ecological Risk Assessments for the Marsh and Uplands at the LCP Chemicals Superfund Site, view the document here.
---

Port Angeles Rayonier Mill Site
Port Angeles, Washington

The Washington Department of Ecology is on schedule for release of reports containing sampling from the Port Angeles Harbor by the end of June.  

   

 
---
---

Hudson River PCB Superfund Site
Upper Hudson, NY

The Hudson River  PCB Dredging project will resume with a new season of dredging in the late spring.  To view recent data from the project go here .  
---

GE-Pittsfield/Housatonic River Site
Pittsfield, MA

Discussions between EPA, agencies from Massachusetts and Connecticut, and GE continue over the cleanup of the Rest of River Area.  Stay up to date with EPA Housatonic News here.
---
Badin Lake Alcoa PCB Cleanup
Badin Lake, NC

A recent study investigated the economic impact of the Alcoa controlled dams changing owners and being re-allocated to the state. Read the full story here.

The comment period on the Final Environmental Impact Statement (FEIS) for the Yadkin Hydroelectric Project ended on February 25. Go here to stay updated.
---
OTHER NEWS
---
We are looking forward to news regarding new additions to the NPL.  EPA historically has added additions twice a year around March and September.

 
---
RECENT DEVELOPMENTS
---
New collaborative study that provides one of the most detailed assessments yet of the impact of lead poisoning on students' learning ability.
Construction companies in British Columbia don't take asbestos exposure seriously.
Beijing could learn something about managing its air pollution from London.
2014 Winter Olympic construction is polluting the local environment in Sochi, Russia, despite promises to be green.
BP litigation continues.
The major polluters of the Passaic River drag other companies and municipalities into the case, slowing a resolution.
Check estewards.com for recent developments and client updates.
Also, follow us on Facebook for more information, photos, and news.
---
Environmental Stewardship Concepts
1006 Pump Road, Suite 200
Henrico, Virginia 23238
Phone: 804.741.2922
Email: pdefur@estewards.com
Website: www.estewards.com